Nataliya Uboha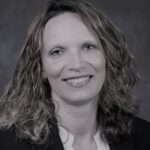 Company: University of Wisconsin School of Medicine & Public Health
Job title: Medical Oncologist
Bio:
Dr. Uboha is an assistant professor in the Department of Medicine at the University of Wisconsin School of Medicine and Public Health, Madison, WI. She specializes in treating patients with gastrointestinal (GI) malignancies.
Her research interests are dedicated to the development of biomarker based early phase clinical trials for patients with GI cancer. Her background and PhD in molecular biology allows for in-depth understanding of molecular mechanisms underlying tumorigenesis and drug development.
Dr. Uboha is a nationally recognized expert in gastroesophageal malignancies and neuroendocrine tumors. Dr. Uboha has received numerous funding awards for her research and is actively engaged in developing clinical trials for patients with GI malignancies. She co-Chairs the Big 10 Cancer Research Consortium GI Section and is a member of the National Cancer Institute upper GI task force. Dr. Uboha is also a member of NCCN committee for neuroendocrine malignancies.